Please note, due to the ongoing COVID-19 Pandemic, we are unable to offer in person programming at this time. Our Discovery Center is closed right now, but we are hoping to open for February vacation. Please check back for updates.
When in season, enjoy a private visit to our Marine Animal Discovery Center and learn about Cape Cod marine life and the work we do at National Marine Life Center to rehabilitate seals and sea turtles. This visit grants you and up to 5 additional people access to our Discovery Center for 1 hour of fun and learning! Your visit includes guided chats with an activity and exploration time of our Discovery Center. For those who may have visited us over the summer, we have updated our activities!
If you would like to do a guided activity, please choose one of the following activities;
~ All About Seals: Learn about seal natural history and what to do what when you see seal in the wild. See a demonstration (using a stuffed animal) of how we tube feed a seal patient! You'll also have the chance to try it out yourself.
~ Sea Creature Craft: Make a marine themed craft or two. We try to use reusable or recycled materials to keep it eco-friendly.
~ All About Turtles: Learn about turtle natural history and how we care for our sea turtle patients. You'll also get to play our sea turtle survival game!
For those who may want to explore our Discovery Center and not do an activity, you are also welcome to! Just choose the Explore On Your Own option.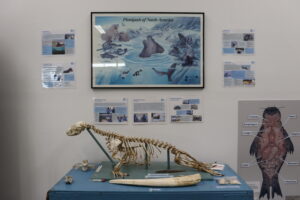 We are still following these COVID guidelines:
Masks are required for everyone over 3 years of age, and must be worn for the entirety of your visit.
The price is per group and includes up to 6 people.
If you are unable to attend, you must cancel 24 hours in advance to be issued a refund.
If you have any questions please email education@nmlc.org.
Please stay safe and enjoy one of our virtual programs!
When not in a pandemic, the National Marine Life Center's Marine Animal Discovery Center & Gift Shop is generally open to the public during the following hours.
February School Vacation Week (Barnstable County), 10-5 daily
April School Vacation Week (Barnstable County), 10-5 daily
Memorial Day Weekend through Labor Day, 10-5 daily
Weekends through Columbus Day, 10-5
Thanksgiving Weekend (except Thanksgiving Day), 10-5
And selected days throughout the year (Open Houses and other special events)
Our Discovery Center features specimens and exhibits featuring information about the species we rehabilitate, the science our work  contributes to and conservation efforts for these species. We also have interactive exhibits for kids of all ages!
National Marine Life Center is a marine wildlife rehabilitation hospital, so we do not allow the public into the hospital where we house our seal and sea turtle patients. This is for their safety and comfort, as they are wild animals and we want to minimize stress. This is also for the safety of our visitors, as wild animals can carry zoonotic diseases. We do have two live box turtles that are available for viewing in their enclosure during your visit. Depending on time of year, we may also have native turtle hatchlings in house for viewing.
Please see our Event Calendar for information about education programs and special events!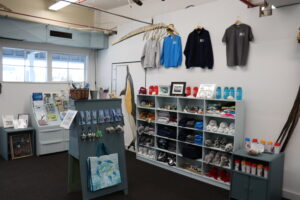 NMLC's Gift Shop features a unique selection of local art, jewelry, educational toys & games, eco-friendly, and fair trade items with a marine theme.  We now offer all of these items through our online gift shop. Shop for a good cause!  All proceeds benefit NMLC's marine animal rehabilitation, science, and education programs.