Visit Our Discovery Center
The Discovery Center is now open!
Come visit us. We'll be open today and tomorrow, September 9th and 10th and next weekend, September 16th and 17th from 10:00 am – 5:00 pm
Admission fee is $3 over the age of 2
Be sure to check back for days and hours of operation after this weekend.
Our Discovery Center features specimens and exhibits featuring information about the species we rehabilitate, the science our work contributes to, and conservation efforts for these species. We also have interactive exhibits for kids of all ages! This educational area will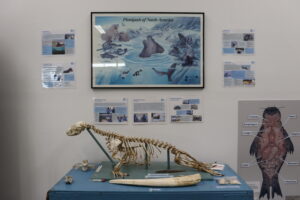 give you a look at the work we do to care for stranded marine animals and their natural history. Please be aware, that this is not a tour of our animal hospital.  
National Marine Life Center is a marine wildlife rehabilitation hospital. We do not allow the public into the hospital where we house our seal and sea turtle patients. This is for the animals safety, comfort, and to allow our personnel to care for these animals efficiently. This is also for the safety of our visitors, as wild animals can carry zoonotic diseases. We do have two live box turtles that are available for viewing in their enclosure during your visit. Depending on the time of year, we may also have native turtle hatchlings in-house for viewing.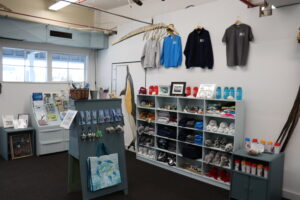 NMLC's Gift Shop features a unique selection of local art, jewelry, educational toys & games, eco-friendly, and fair trade items with a marine theme.  We now offer all of these items through our online gift shop. Shop for a good cause!  All proceeds benefit NMLC's marine animal rehabilitation, science, and education programs.
For more information please call 508-743-9888 or email education@nmlc.org